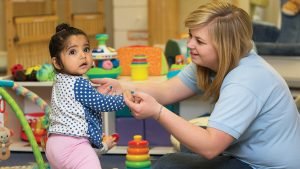 High-Quality Child Care Matters
When children are enrolled in high-quality early education programs, their parents can rest assured that they will be ready for school. Our Quality Improvement Program takes a multi-faceted approach to helping child care providers get better at what they do.
Educated teachers means high-quality child care.
Children who are cared for by educated professionals perform better in school and in their daily life. We pay special attention to coaching and supporting child care professionals in improving their education. The Quality Enhancement Program works with educational funding sources, Sandhills Community College, and center directors to help working teachers achieve their educational goals.
Environment Rating Scales
The Environment Rating Scale objectively measures the quality level of care in a particular classroom or facility. Our trained consultants use observation and coaching to help facilities prepare for these evaluations.  A higher score on the Environment Rating Scale indicates high-quality child care and can lead to a higher star rated license for the facility.
Technical Assistance and Support
Our highly qualified Early Childhood Consultants offer technical assistance, on-site, in our office, or by e-mail or phone.  Call us at 910-848-2300 or 910-848-2301.  Or contact us with our convenient contact page.